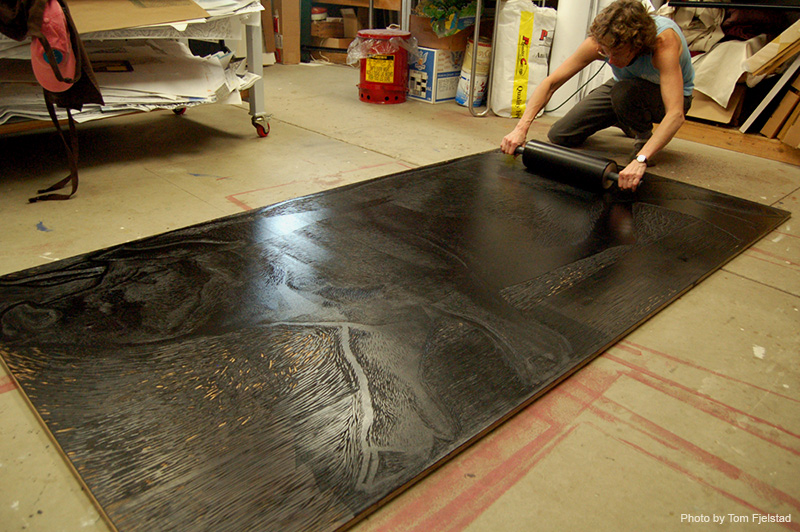 This is Market Weight Press
—a working printmaking studio and shop featuring the work of S.V. Medaris.
Here at MWP you'll find exclusively printmaking: woodcuts and linocuts and more on paper, but also block-printed tees and nylon bags, hand-dyed and block-printed silk scarves, books, and more. Buy currently available items at the shop.
Where are you?
Well the shop is online, but geographically, we are situated on a farm in southern Wisconsin's driftless area accompanied by dogs, cats, chickens, peafowl and (before butchering season, that is from spring to fall) hogs, turkeys and broiler chickens. After eleven successful solo exhibitions in nine years, each of them focused on domestic animal husbandry (A One Chick Show, The Lives of Farm Dogs, The Whole Hog, The Tunnel of Mortality…), S.V. (Sue) continues to investigate historical changes in livestock rearing, breed genetics, feed consumption, processing animals for meat, and how it affects our lives and the food we eat. The artwork explores our relationship with the animals we raise for consumption as well as those we care for in companionship. The models you see in the artwork have all lived on the farm here (or on nearby farms) at one time or another.
But where's all the paintings?
You can see pretty much all of Medaris' artwork at S.V. Medaris Fine Art—the paintings, etchings, pastels, and all the rest from Sue's portfolio—starting from The One Chick Show and continuing up to the present. Sue is represented by Artisan Gallery in Paoli, WI, and that's where you can find her framed artwork and some of her larger-size artwork.