Category Archives:
block printing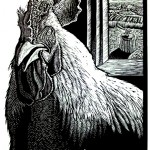 This gallery contains 3 photos.
Deadline approaching for class sign-up (

link to sign up here

)
Sat / Sun, July 20-21, Sat 9-4, Sun 10-4.
Reposting the info here. Spread the word! Thanks!
More info, registration, supply list, photos at Whispering Woodlands – July Workshops.
This is an introductory level printmaking class in which we'll explore how to make block prints using linoleum. Learn how to plan, draw and transfer your design; prep, cut and print a linoleum block without a press. Explore the different ways to add color to your print.
In addition, we'll experiment with printing on fabric and/or tees (with the press). Learn the tricks to making clear, crisp prints easily and without frustration. Make your print as simple or as complex as you'd like, but keep details to a minimum and/or size of block small so that you can finish cutting and printing before end of workshop. (5″ x 7″ – 4″ x 6″ ideal. No larger than 8″ x 10″) Better understand the different substrates for cutting (different kinds of linoleum, rubber, wood, and synthetic materials), different papers for printing on, and the different tools you'll need for different techniques/substrates. You can experiment with cutting some of these materials as interest/time allow. Note: More detailed information on supply list.
NOTE: I include the Clydesdales, Lexington print/book above, to show some of the fun things you can do with a simple 1-color linocut (like we will be doing in class), dye and stamps.