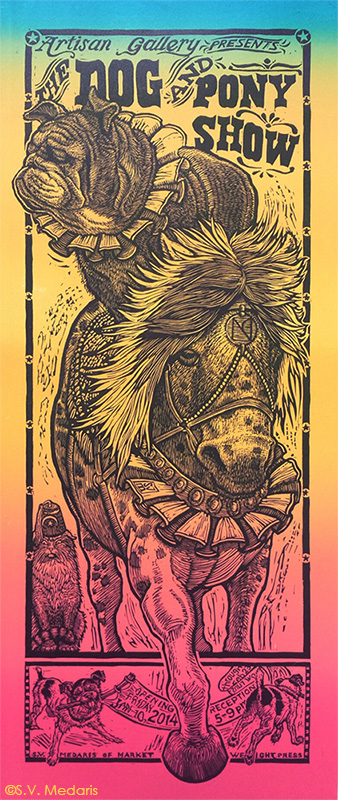 This commemorative broadside for The Dog & Pony Show is now available at the Market Weight Press Shop. The exihibit was held at Artisan Gallery in Paoli, 2014.
This is a linocut block (the black-inked image you see here) printed on top of a "split run" or "rainbow roll" print on paper. 100% cotton, 300gm, high quality paper measures 11-1/4in x 25in.
That's Rosie, the English Bulldog (I met her when we took our hogs in to Avon Locker in Darlington), mellow as usual, resting atop a circus pony. The cat in the fez is the critic, who obviously doesn't think much of the show (nor wearing hats). Dexter is below, advertising the event—any excuse to run around with a precious stick in his mouth.
See detailed close-ups of the print and purchasing information at the Market Weight Press Shop.