The story behind GrrrKitty:
I was photographing a deer being processed in my neighbor's front yard. While the humans worked away on this hanging buck, carefully skinning, then cutting the different cuts of venison out, the animals gathered and sat quietly, awaiting their flung piece of meat that was expertly tossed into the waiting mouths of each of the various Weimaraners, and other dogs. The cats however, moved in, and whenever there was an opening, ran forward and settled down to lick up the pooled blood near the buck's head.
There was this very fierce little kitten, the tiniest kitten I've ever seen. Small in stature, but huge in attitude, energy, spirit. I approached her to take her photo, and the highest-pitched, cutest little growl came rumbling out of her venison-filled mouth. She was working on this huge (for her) hunk of deer meat, and as I approached, she glared at me very ferociously, then slammed her tiny puffball of a paw down right next to her meat. Then to the other side "Bam!!" (I'm sure she heard), but it was only a soft, barely perceptible "poof" sound. And the high-pitched growling. I just fell in love with her survivalist, ferocious instinct. She was going to eat her venison and NOBODY was going to touch it.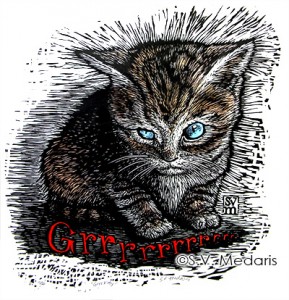 One of the men working on the deer was taken by her too (everyone was laughing at this outrageously brave little fuzzball), and shortly afterward adopted her and took her home. After watching her thump her paw down first one side, then the other—delineating her space around HER food and keeping out all threats, he called her "Thumper."
I did a mixed media piece (at top), about 8ft tall, depicting this scene of the huge hanging buck, and the tiny kitten below it, drinking the pooled blood. A fellow grad student at the time said, "If you ever do a t-shirt with that kitten on it, I want it." Recently, I was finally able to send that t-shirt to him (black on grey t-shirt). And here it is now, in bright colors for the kiddies at the shop!
For now, here is a hodgepodge of kids' tees—many colors—to see which ones folks like the most, available at the online shop. I will most likely do an edition of kids tees in hot pink + one other color—help decide! Send your votes at any time to info@marketweightpress.com.
Thinking of doing a small edition of GrrrKitty on pink women's tees…any interest? Want it in an adult size? Let me know what color/size and I'll see if there's enough interest in an edition. See the kids t-shirts (below) now at the Market Weight Press shop