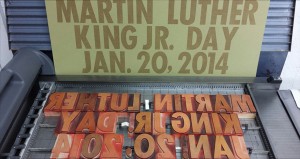 Recently we drove to an outlet mall in Illinois to get my "new" Showcard Press. That is, we arranged to meet the seller at the mall parking lot, pulled around the back, carried/lugged the press from one truck bed to the other, exchanged cash and some history about the press, then each drove away. It would've looked very clandestine except it was the middle of a very sunny, cold, winter day, and the lot was packed with shoppers, and well, none of us looked very shady.
The little photo you see here (upper right) of the wood type set in the letterpress and the resultant printed, green paper above it, is the first print executed on the press–the day after we brought it home. Pretty uninspiring design-wise, but very exciting to actually be setting letterpress type again (haven't done that since grad school—2010), and printing that first print on/about a holiday that will help me remember when I started doing letterpress out of my own studio!
This old Showcard Model B press is an exciting addition to Market Weight Press. It means that I can print with lead or wood type, print wood engravings, and do multi-color block printing (woodblock or mounted lino) with some semblance of registration due to the press' gripper bars and it's ability to lock-up type and blocks on the press bed (with magnets and letterpress furniture). It's all very exciting.

Working Girl is the first multi-color block (reduction) done on the Showcard. It's a "phase 1" print, that is, it needs more color so I'll be doing a 2nd version—adding some more color with multiple blocks to see how close I can get the registration. It's an old machine (mid 1900s) but very basic and solid. So far, I'm hopeful about registering my editions accurately on it.
Did I tell you how exciting this is? Ok, I'll stop now.