Part 3: Off to Chicago!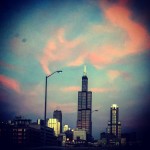 **This is part 3 of the story behind the "Hog Butcher for the World" woodcut. If you'd like to read them, here is Part 1 (the research) and Part 2 (cutting the block)
The skyline of downtown Chicago…there's something magical about it, and when it first appears in the distance, I get this rush of adrenaline…a feeling of an adventure about to happen…the Big City.