Tag Archives:
Hog Butcher for the World
It is my pleasure to tell you that you have been selected…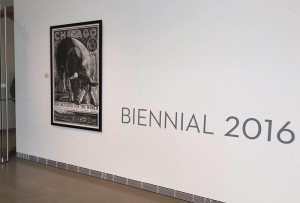 Continue reading →
5ft hog at Museum of Wisconsin Art (MOWA)

Honored to find out "Hog Butcher for the World" (5ft woodcut) made it into the 2016 Wisconsin Biennial…[out of] 650 works, the three jurors (Pete Olson, Tammie Rubin, and Graeme Reid) selected 52 works…. Most exciting is that this is held at the beautiful Museum of Wisconsin Art in West Bend, Wisconsin.
It started with an invitation

…to participate in a 40 x 60 Woodcut Challenge! (Actually, it started with an inquiry about whether or not there were still any openings to participate, and thankfully, they'd seen my work and welcomed me to take part).
40 x 60 Challenge?