Our neighbors–Mindy and Linda of Galpaca Farm have the most beautiful, engaging, patient and fun models — Alpacas! All day, our view to the south is a pastoral scene of alpacas grazing on top of the next ridge.
Every year there is a Wisconsin Alpaca & Fiber Festival to which I donate some art for their silent auction of anything alpaca related (in years past this has always been Great Pyrenees prints, since Pyrs are common as Livestock Guardian Dogs on Alpaca farms, and our Pyr, Ivan is a great model for much of my artwork). For the first time this year I made a piece featuring an actual alpaca(!). I have lots of reference photos of the Galpaca herd, but this is the first time, going through the images that I saw one that screamed "make a print and a t-shirt of me!" And so…
Here are some of the steps in the reduction linocut (linoleum block) printmaking process…
Then carve out wherever I want the print to stay that blue-to-orange color—mainly the sky—and ink up the roller to print the next color on the print:
More carving (where I want the purplish layer to stay), and then a ghoulish green is added only to the lower right quadrant of the block (lower left of the print):
And finally, with the last session of carving leaving only the black, keyline image, this final (5th) color is printed:
With relief, I can see that the print turned out right. It's always a bit of a guessing game (hope hope hope) that it'll turn out correctly–ie-look close to the way I was imagining/hoping it would turn out. 12 of them turned out with good registration, etc., so the edition is officially 12.
After the last full-color print is done, I can print the t-shirts. I cut out the block around the edge of the big alpaca in the foreground, ink that up with Drive-By black ink, and print some shirts I have in stock, special for the Alpaca Fest the following weekend. If sales are good, I will print a limited edition (100 or less) of the shirts in one style/color…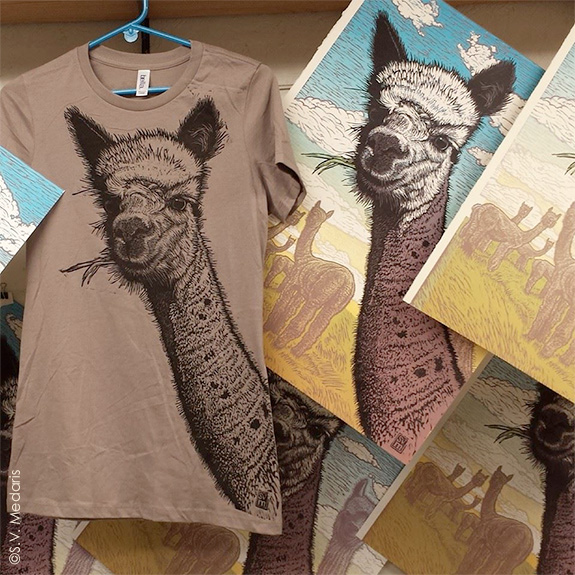 T-shirts now available!
Sales at Alpaca & Fiber Festival were good, so I did a limited edition of Alpaca Sky tees in time for the Mount Horeb Spring Art Tour. Buy t-shirts at the Market Weight Press Shop!