It is my pleasure to tell you that you have been selected…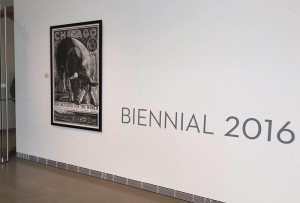 …as an award winner for one of the four major awards, the email from MOWA (Museum of Wisconsin Art) stated, and asked if I would be at the opening reception for the Wisconsin Biennial 2016. Hog Butcher for the World had won one of the cash awards that ranged from $500 to $2,500, and the museum would like recipients to be present (or provide a proxy). What?!!? I replied that yes, I was thrilled and honored and of course, I could make it. An award at the Biennial? At the prestigious MOWA?! Whoa. Secretly too, I was excited for the $500, as business taxes (for Market Weight Press) were overdue, and I needed to buy another oversize roll of paper for new, large woodcuts in the works, and…well…as you artists know, there's always supplies needed for new art—it takes money to make money, right?
The Jurors Process
For this biennial 335 artists submitted 647 works and the jurors selected 52 artworks by 49 artists. The jurors were Peter Olson, assistant director of the Northern Illinois University Art Museum; Tammie Rubin, assistant professor of sculpture and ceramics at St. Edward's University in Austin, Texas; and Graeme Reid, MOWA's director of collections and exhibitions. They were also the ones to judge the awards. And prize money was very generous at this year's biennial due to the museum's challenge grant for the prize winners.
The story behind that hog
The Hog woodcut was created for a 40x60in woodcut challenge. You can read the 3-part story about the making of this woodcut: the idea behind it, the carving of the block and the printing of it at Hoofprint Workshop. All around, a fun, challenging and rewarding experience. Getting it into the Wisconsin Biennial and now receiving an award for it, was beyond my wildest dreams.
Museum of Wisconsin Art
MOWA is a regional art museum, exhibiting the work of Wisconsin artists, and is a new (2013) state-of-the-art building. I found myself sort of gaping open-mouthed at it when we first drove up to deliver the big, framed woodcut on delivery day—you are so lucky to be showing here I thought. When J and I returned for the opening reception (new puppies in crates in the back seat of the car, peacefully sleeping after exuberant walking/playing in morn), my heart sort of skipped a beat as I gazed up again at the steel and glass structure. What a thrill to be showing here. In short, the place is stunning inside and out. The Biennial Show looks amazing in that space, and the work itself is very inspirational. I felt proud to be showing with these amazing Wisconsin Artists, and there were far more than 4 works that were award-winning contenders.
The Awards
We all gathered near the podium to listen to all the people responsible for this exhibit and reception, and waited with bated breath to hear the results. At each honorable mention, I got ready to walk up, then 3rd place, 2nd place, 1st place. Uh oh, they made a mistake I thought, that's it, 1st place is over and I'm not really getting an award. I knew it was too good to be true. And then Graeme Reid (Director of Collections / Exhibitions & Curator for the Biennial) took the microphone…
G.R.: and the winner of Best in Show is…
Me: Omigawd what the…
G.R.: …Sue Medaris.
I actually almost passed out as I walked up there. Everybody was smiling and I was shaking I was so stunned. Such an honor. I just couldn't believe it. The little voice was saying omg omg omg omg…
Never in my wildest dreams.